Packing Material Recycling Program – Help Preserve the Planet
iSOLD It is a proud member of the Plastic Loose Fill Council, and we are an official "Peanut Hotline" collection center for expanded polystyrene (EPS) loose fill packaging–better known as foam "peanuts" or "popcorn".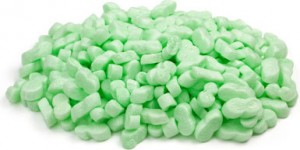 The next time you receive a box filled with foam peanuts, don't throw the packaging in the trash! EPS occupies a tremendous amount of space in landfills, and it is not biodegradable. Instead, bring your clean foam peanuts to us.  We will reuse them in our outgoing product shipments. In fact, EPS peanuts can be reused many times, saving the natural resources used in producing them, and reducing landfill waste.
In addition to packing peanuts, we also gladly accept almost any clean, reusable items used for packaging.  This includes:
bubble wrap
 foam packing inserts (such as those around your home electronics)
boxes of all shapes and sizes
packing paper
We are proud to be helping our neighbors in the community preserve the planet…one "peanut" at a time!